Professional Wood Deck Staining for Cabins, Decks & More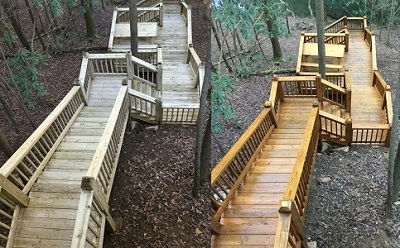 Letting a professional painting contractor take care of your need for wood deck staining in Ellijay or any of the surrounding areas of North Georgia will provide you with the finished look that you have always wanted. In order to get the best results possible, call on the local leading service provider - Eldicel Painting. We take great pride in the work that we do and that shows in the results that we are able to deliver, each and every time.
Your wood surfaces need to be stained, in order to keep them looking their best. This is also what helps preserve the surfaces, as well. Wood surfaces, like your deck, are constantly exposed to the elements. So you need to be able to protect it, in order to get the look, performance and longevity you should be able to expect.
Don't take chances when it comes to the quality of work that goes into your home, every last detail of it. Let our expert house painters provide you with the quality wood deck staining work you need, in order to get outstanding results. Make the wise decision to give us a call, you will be glad that you did.
The Finest Results for Wood Deck Staining in Ellijay & Nearby
Adding elements to your home crafted from wood is a smart investment. Not only will this enhance your own personal enjoyment, you will be able to increase the property value of your home. Here are some things that you should know about staining wood.
While some people prefer the natural look of bare wood, this puts your wood surfaces at risk. Exposure to the elements will begin to damage it. This not only makes it look unsightly, it can lead to rot which will cause you to need to replace it. So properly staining and sealing the wood is important, especially with extensive wood exteriors, like log cabins. Our house painters specialize in cabin staining, and we'll make sure your home's exterior is properly protected with durable, long-lasting wood stains.
Staining wood is also an ideal way to protect your surfaces from splitting and leading to splinters. What is the point of an exterior deck if no one can run around barefoot and enjoy it? Be sure to invest in proper deck staining, and your outdoor areas will be much more enjoyable!
Opting for stain, over paint, enables you to keep that same natural wood look that you love. However, quality stain actually helps beautify the look.
While stained surfaces still require some maintenance and upkeep, it reduces the work you would have for a bare surface. Not to mention, those wood surfaces that have been stained will look fantastic when you let our painters handle the job for you.
Protect your wood surfaces with expert wood deck staining services from the professional painters at Eldicel Painting.
Local Experts for Wood Deck Staining Services
Eldicel Painting is the only name that you need to know for wood deck staining in Ellijay, GA and the surrounding areas, as well as other house painting related services. As the favored local choice, we have worked hard to retain the impeccable reputation that we have as a local painting contractor in Ellijay. Give us a call today and let us provide you with the quality results that you want, need and deserve.
If you would like an estimate for wood deck staining in Ellijay or the surrounding areas of North Georgia, please call 706-972-7717 or complete our online request form.
Recent Articles
How Industry Pros Handle Common Interior Painting Issues - Any reputable Ellijay house painter will tell you the same thing – painting work is best left to trained and experienced industry experts. Not just because they need the work, but because they have seen the outcome, plenty times before. Someone starts a DIY project involving interior painting in Ellijay, it becomes too much or the results don't turn out right, and then the person ends up calling in a professional painting contractor anyway … Read More


Are You Hiring The Right House Painter For Your Job? - Savvy homeowners realize the importance of hiring a professional house painter in Ellijay, to get the job done. The trick is, how do you know you are choosing the best one for your house painting project? Exterior painting is certainly not the type of job you should be taking care of on your own, as a DIY task, especially if you own a two-story house … Read More