Professional Interior Painting Services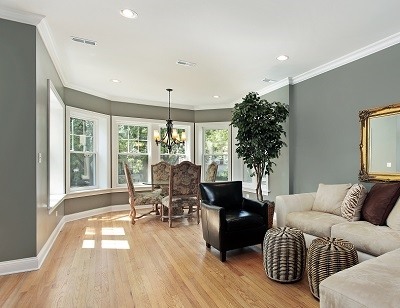 What the average person doesn't realize about an interior painting project, is just how labor intensive it is. The truth of the matter is, there is much more to interior painting in Ellijay than just applying the paint to the walls. When savvy local homeowners make the wise decision to hire Eldicel Painting to take care of their project, it becomes easy to see why we are the local leading painting contractor in North Georgia for house painting services.
From the moment we begin to consult with you about color choices, you are going to know you have made the right decision. We offer the best results because we are thorough with the process, every step of the way. This includes the tedious job of preparing the walls and taking care of existing blemishes.
Once the project is complete, your walls should look as good as new again – if not better. Let us help transform your current house into the home of your dreams, with just the right finishing interior touches. You are going to love the new look, once we complete the interior paint work for you.
The Finest Interior Painting Results
One of the questions many of our prospective clients have is what makes us the top choice, in the local area, for house painter services like interior painting in Ellijay and the surrounding areas. Aside from having over 16 years of hands-on expertise, it is about the dedication we have to every house painting job in the North Georgia area we take on.
It starts with the planning. This is where we discuss color and address any questions or concerns you may have.
The prepping of the walls is a thorough process. From the primer we use to taking care of existing defects, we work hard to perfect your walls and the skill of painting.
Taping off edges and ensuring that drop cloths are in place is another essential step. Taking the time to do all of this helps ensure that your walls look stunning and the paint ends up only where it should be.
Most people don't give much thought to the clean up process,because they have never had to do it. Cleaning up after a painting job is a task because it has to be carried out with careful precision.
We even offer advice for how to care for your walls, once we are gone.
Local Experts for Interior Painting in Ellijay & Nearby
What are you waiting for? If you are in need of interior painting services in Ellijay, GA or nearby, you have come to the right place. Now all you have to do is contact Eldicel Painting and let us take care of the project for you. Our house painters in Ellijay are excited to work with you!
If you would like an estimate for interior painting in Ellijay or the surrounding areas of North Georgia, please call 706-972-7717 or complete our online request form.
Recent Articles
How Industry Pros Handle Common Interior Painting Issues - Any reputable Ellijay house painter will tell you the same thing – painting work is best left to trained and experienced industry experts. Not just because they need the work, but because they have seen the outcome, plenty times before. Someone starts a DIY project involving interior painting in Ellijay, it becomes too much or the results don't turn out right, and then the person ends up calling in a professional painting contractor anyway … Read More


Are You Hiring The Right House Painter For Your Job? - Savvy homeowners realize the importance of hiring a professional house painter in Ellijay, to get the job done. The trick is, how do you know you are choosing the best one for your house painting project? Exterior painting is certainly not the type of job you should be taking care of on your own, as a DIY task, especially if you own a two-story house … Read More