About Your Local Ellijay Painting Contractor, Eldicel Painting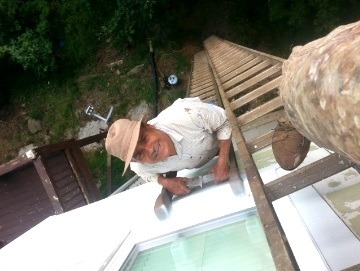 Having the home of your dreams is about making sure that every detail is to your liking and specifications, right down to the paint that gets applied to your walls. Here at Eldicel Painting, our Ellijay painting contractors have been in the business of putting these types of finishing touches on local homes here in North Georgia since first launching the business in 2000. As a family owned and operated business, we wanted our primary professional focus to be on residential homes.
We appreciate getting the opportunity to work one-on-one with each client, and finding out more about what they hope to achieve. When you make the wise decision to partner with us, for your interior or exterior painting project, you get the best of both worlds. You get the personalized touches that only an independent business can deliver, paired with the exceptional professional service you would expect from a corporate-run operation.
While the list of services that we offer is not lengthy, it covers the essentials of painting-related service that will improve the look and ambiance of your home. Don't settle for less than the best, when it comes to any aspect of your home, including the painting for the interior and exterior of your home. Give our team of experienced and reliable painting contractors a call today.
Our Ellijay Painting Contractors Focus On:
Recent Articles
How Industry Pros Handle Common Interior Painting Issues - Any reputable Ellijay house painter will tell you the same thing – painting work is best left to trained and experienced industry experts. Not just because they need the work, but because they have seen the outcome, plenty times before. Someone starts a DIY project involving interior painting in Ellijay, it becomes too much or the results don't turn out right, and then the person ends up calling in a professional painting contractor anyway … Read More


Are You Hiring The Right House Painter For Your Job? - Savvy homeowners realize the importance of hiring a professional house painter in Ellijay, to get the job done. The trick is, how do you know you are choosing the best one for your house painting project? Exterior painting is certainly not the type of job you should be taking care of on your own, as a DIY task, especially if you own a two-story house … Read More
If you would like to know more about our Ellijay painting contractors, please call 706-972-7717 or complete our online request form.