Cleaning Exteriors with Professional Pressure Washing Services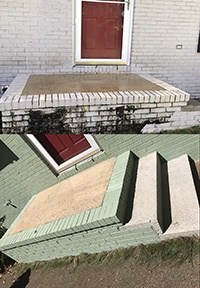 One of the easiest ways to enhance the overall look of your home is with professional pressure washing in Ellijay. Since 2000, this is one of several important services that Eldicel Painting has been offering. Our goal is to help ensure that your current house is transformed into the home of your dreams.
It is a common problem homeowners face; their exterior surfaces get covered with dirt, grime and other contaminants. This not only causes your home to look uncared for, it can lead to damage. Substances like mildew and mold can begin to breakdown surface materials, leading to the need for repairs or replacement.
Let our painting contractors provide you with the exterior cleaning work that you need, in order to keep your surfaces looking their very best. Our power washing services will help to even increase the property value of your home. House washing is also a great preparation for exterior painting work, so if you were planning on investing in house painting services, be sure to start your project off with a nice, clean slate for optimum results. Get in touch with our Ellijay painting contractors today and let us set up a time to take care of your pressure washing service needs.
The Finest Pressure Washing Results
One of the most common mistakes homeowners make is thinking that they can take care of washing their exterior surfaces, on their own. Here are some things that you should know about pressure washing in Ellijay and the surrounding areas:
The pressure washing rental equipment available at your local home improvement store is not the same grade as the machinery we use. If your main objective is to scatter leaves from off of your driveway, the DIY approach will suffice. If you want a deep clean for surfaces like siding and walkways, you need the level of power washing we can offer.
Different surfaces respond differently to pressure washing. It is important to know what to expect and how to handle it. For instance, how you clean your roof compared to how you clean the driveway will be a completely different approach. It is important to let an industry expert handle the task for you.
Hiring an expert for power washing services is important for good health, too. Ridding the exterior of your house from contaminants like pollen also helps make the interior of your home cleaner. This is especially important for households where anyone resides that suffers from asthma, allergies or other breathing related health issues.
Local Experts for Pressure Washing in Ellijay & Nearby
At Eldicel Painting, our house painters in Ellijay, GA genuinely care about the satisfaction of our customers. We take great pride in all the work we do and that shows in the results that we are able to deliver. Pressure washing is an instrumental aspect of keeping your home looking good, either before a new house painting project or on its own.
If you would like an estimate for pressure washing in Ellijay or the surrounding areas of North Georgia, please call 706-972-7717 or complete our online request form.
Recent Articles
How Industry Pros Handle Common Interior Painting Issues - Any reputable Ellijay house painter will tell you the same thing – painting work is best left to trained and experienced industry experts. Not just because they need the work, but because they have seen the outcome, plenty times before. Someone starts a DIY project involving interior painting in Ellijay, it becomes too much or the results don't turn out right, and then the person ends up calling in a professional painting contractor anyway … Read More


Are You Hiring The Right House Painter For Your Job? - Savvy homeowners realize the importance of hiring a professional house painter in Ellijay, to get the job done. The trick is, how do you know you are choosing the best one for your house painting project? Exterior painting is certainly not the type of job you should be taking care of on your own, as a DIY task, especially if you own a two-story house … Read More