Exterior Stained Home in Jasper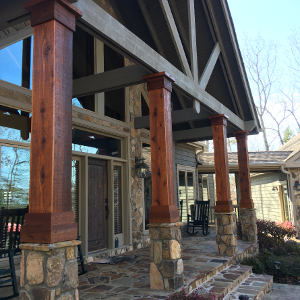 In this project the owner asked us to wrap existing posts with cedar wood. We started by giving a base coat on the post followed by a re-coat. We also painted the front trim of the house. This customer was getting ready to sell his home and now it's well presented to sell.
Our trusted North Georgia painting contractor at Eldicel Painting recently finished this Exterior Stained Home in Jasper, GA.
Location: Jasper, GA
Type: Exterior Staining
Exterior Painting
Wood Staining
Exterior Stained Home Gallery in Jasper, GA
If you need a professional Ellijay painting contractor for your project, please call 706-972-7717 or complete our online request form.