Exterior Painting Job in Blue Ridge GA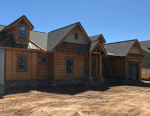 Eldicel painting painted this beautiful house located in downtown Blue Ridge Ga. this home is located in the new supdivision call blue ridge overlook. We applied on coat of stain on the front of this house and the ceilings in the back using sikkens stain. We caulked the siding and trim before applying one coat of paint on all windows, trim and siding. We applied super paint by sherwin Williams. This home was sold right away thanks to all the hard work it took into building this home...
Our trusted North Georgia painting contractor at Eldicel Painting recently finished this Exterior Painting Blue Ridge GA.
Location: Blue Ridge, GA
Type: Exterior Painting
Brands: Super Paint by Sherwin Williams / Stain by Sikkens
Exterior Painting Gallery in Blue Ridge GA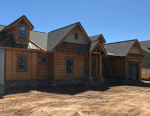 If you need a professional Ellijay painting contractor for your project, please call 706-972-7717 or complete our online request form.