Is Pressure Washing Beneficial For Your Ellijay Home?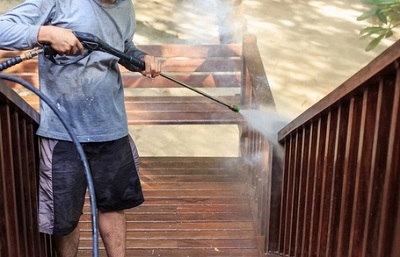 Many homeowners are apprehensive about opting for residential pressure washing in Ellijay. One common misconception is that this type of work is only appropriate for commercial structures. While it is true that pressure washing is often implemented for services like attempting to remove graffiti from the exterior surface of a commercial building, there are more benefits than that.
The truth is, here at Eldicel Painting, we often recommend power washing as a more cost-effective alternative to house painting in Ellijay, if your home is not really in need of a fresh coat of paint. If your goal is to clean and freshen up the look of your exterior, pressure washing could be the perfect option. Learn more about some of the benefits and decide if this is the right course of action for you.
Advantages of Residential Pressure Washing
How exactly will you benefit from opting for residential pressure washing in Ellijay?
The most obvious reason homeowners decide to get a thorough exterior cleaning for their home is to enhance the curb appeal. You really won't notice, over time, how much dirt and grime has built up, until you see it gone. In fact, this has such a dramatic impact that it will actually help increase the property value of your house.
When you opt for a professional house washing that uses a pressure washer, you are ridding the exterior of your home of potentially harmful contaminants. From algae that can eat away asphalt shingles to pollen that can negatively impact the very air you breathe, inside your home. Help safeguard your house, as well as your family, from hazardous pollutants.
Don't forget, power washing is about more than just the siding of your house. The exterior of your home includes elements like your deck, driveway and walkways, just to name a few. Cleaning these surfaces can make things safer for foot traffic. Not to mention, it will make all of these features look their very best.
This minor investment could help stave off the need for much more costly repairs. Substances that accumulate over time, such as bird excrement and mold, don't just look unsightly, they damage your exterior. Stay on top of regular cleaning now and avoid the need for expensive repairs, down the road.
The Name to Trust In for Painting & Pressure Washing in Ellijay
Since 2000, local homeowners have relied on Eldicel Painting as their preferred painting contractor to take care of this type of task. We are the preferred professionals when it comes to painting, as well as tasks like pressure washing.
Our professional goal is to help transform your current house into the home of your dreams, something only possible if your exterior looks beautiful. Call us today to get started.
Does your home's exterior need pressure washing in Ellijay, GA? Call 706-972-7717 or complete our online request form.